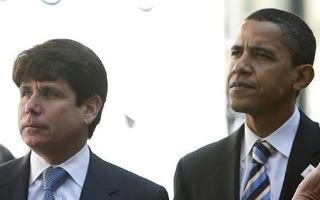 Political corruption is an industry that thrives on the banks of Lake Michigan. The Daleys, Otto Kerner, George Ryan, Dan Rostenkowski, and now, Rod Blagojevich.
With all the wit and charm of a used car salesman, Blago was recorded by the feds trying to sell the senate seat vacated by Comrade Barry. Veteran FBI agents involved in the wiretaps and bugging were shocked by the outright salacious tone of Blago's sales tactics. Based on the content of the affidavit filed by the U.S. attorney he may as well have rented billboard space along I-55, dropped leaflets over downtown Chicago and robo-called every household in Cook County.
In Chicago, if you're not cheating, you're not winning. This industry has produced a fair share of bottom feeders. And now, a spawn of this revolving door has found his way to the highest office in the land. Make no mistake about it, Barry Obama is part and parcel of Chicago politics. Nobody rises to the levels he has risen in that region without writing a few IOUs along the way. How many will come due on 1/20/09?
Blago's wife Patty, the First lady of Illinois, chooses a book each month for the Children's Reading Club. Her
choice
for this month -
How the Grinch Stole Christmas
.